Survey Results
What did you tell us in our recent LiveCode Useage survey?
Thanks to everyone who completed our LiveCode Usage Survey this week. The survey will stay open till the end of the week so there's still time to win that iPad2.
The results of the survey so far have been extremely illuminating and your feedback and opinions will help shape future versions of LiveCode and make sure that we are the right track to surpassing your needs.
So, what have you told us is important to your business, and where do you see your business going? Firstly, we asked you all what platforms are important to your business. Desktop Mac and Windows comes out on top still - but by a very narrow margin! Already, Mobile is hot on the heels of Desktop platforms.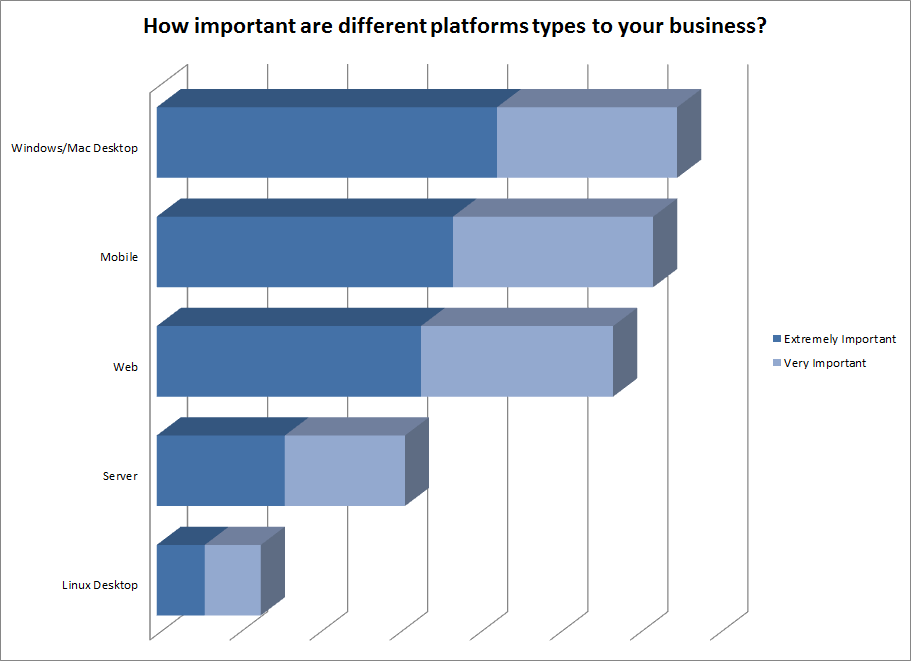 The focus of this survey was mobile. LiveCode supports so many features across such a range of platforms - to keep the survey short enough to complete we need to focus on just one area. "Cross-platform support (especially mobile!) is the big bonus for LiveCode" one respondent told us. We have every intention of staying cross platform. The figures above support us when we say that the other platforms are still just as important - you may see a desktop survey being sent in the near future.
What is particularly interesting here is that mobile already surpasses windows desktop, server and web. For a relatively new platform - remember that compared to all the others mobile is still very much in its infancy - to be second of the list shows how quickly it is being embraced by the developing community. In fact 84% of you said that you currently develop, or plan to develop, for mobile platforms.
Of course the next logical question is which mobile platform is most important. Overwhelmingly the responses favour the two most popular platforms - iOS and Android with Windows Phone 7 bringing up a very plodding third.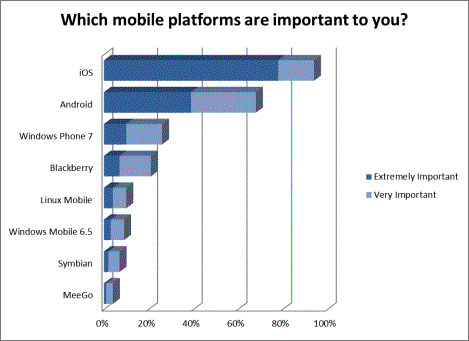 In fact many of you have already completed an iOS app (or, in some cases, several apps) and there are now lots of LiveCode built apps in the iOS apps store. Fantastic! With Android in pre-release we are confident that many of you will have apps in the Android Market place in no time. We'd love to hear about them when you do!
It was when you told us what motivates you to chose to develop for a particular platform that the answers started to get really interesting. As can be seen from the chart below, having a current customer base on a particular platform is the most important decider in choosing to develop for that platform. Well that makes sense.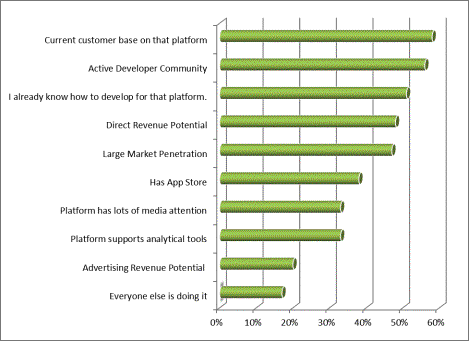 Also important is have an active developer community - we're happy to be able to offer the LiveCode forums and the LiveCode Developer Program to fulfill this crucial need.
Take a look at the importance of advertising revenue potential versus direct potential however. Advertising revenue potential is the second least important factor in choosing a platform. For me this was the most surprising result of the entire survey. Did you know with Angry Birds, Rovio expect to earn $1 Million dollars, every month, on the Android Platform alone. Not bad for a game that was only released in October. Sadly we can't all be as successful as Angry Birds, but in-app advertising and in-app purchases are also valuable sources of continuous revenue that can be considered when choosing a platform.
Finally we looked at specific features asking you to tell us what features you are already including in your mobile apps, and looking at features that you hope to be able to use in the future. Of your current apps, the most popular features were keyboard support, multi touch support and multi orientation support.
In terms of what you would like to see in future releases, iOS Native Theming and UI controllers remain the most wanted item, and something we are working hard towards. This is going to take us a little bit of time, so we've been adding native control support to alleviate this and will continue to do so.

Direct MySQL database access was extremely high your list of priorities and our team are already at work on providing this for you. You also asked for iOS printing and we are developing a solution for you here too.

Address Book and Calendar access are also much sought after - these are great candidates for externals and so we are working on producing a much improved extension interface so that third-parties can step up to provide these facilities and indeed interface with other iOS native APIs.
I'll leave with a comment from one budding mobile developer:
"I just want to thank the the LiveCode Team for making it possible for me to be able to make my dream of making an app be possible. I don't know if I'd have been able to make an app with traditional code. If that was the case I'd probably be working a min. wage job and missing time to live life. I'm soon to release my app to the store. Thanks again for making it possible for me to reach my dream. Please keep making LiveCode better and better!!"
The information you've given us in this survey will make that sure that we know just what we need to do to 'keep making LiveCode better and better'. Thanks again to everyone who participated!
| | |
| --- | --- |
| | Mark Taoilinn is Marketing and Communications Analyst for RunRev Ltd. |