Vader Keynote Speaker for revLive 2010
Death star to be reprogrammed: Jedi Alliance Outraged
Lord Vader Brainstorms in the RunRev Offices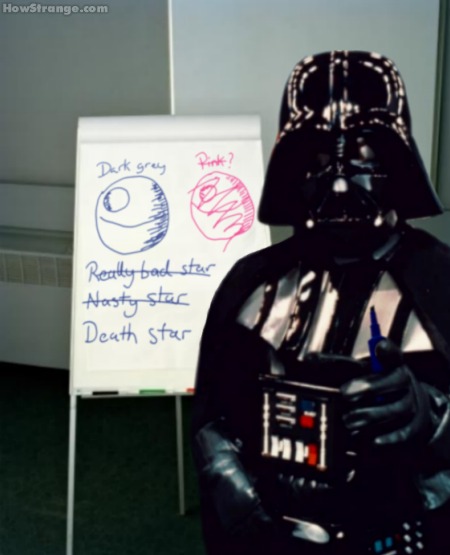 Darth Vader will present the keynote speech at the upcoming RunRevLive.10 landmark conference. Topics expected to be covered will include the upcoming re-programming of the Death Star to run entirely on revMobile, thus enabling the Dark Lord to control it from his iPhone even when on the move or in hiding. It is also thought that he will touch on efficiencies in using the revTalk language across his operation, enabling the Empire to run stealth server technology and integrate with the entire battle fleet command centre. Obviously the ability of Rev on the desktop to flexibly interact with databases is a huge asset to such a wide ranging organisation, allowing accurate tracking of opposing factions and collection of live data on campaign progress.
RunRev are proud to have secured this prominent speaker for their revMobile focussed conference in San Jose this November. I caught up with CEO Kevin Miller earlier today, and asked what gave him the idea to invite Lord Vader to speak. He told me:
"It seemed like a good idea. RunRev's ultimate goal is to take over the world, so asking an expert to speak on the subject is obviously valuable to us. We felt that Lord Vader would command respect from the audience, enabling our message to reach as many people as possible"
Of course, not everyone we spoke to was as enthusiastic. I was able to obtain an interview with Lord Vader's son, Luke. He said:
"Its an outrage! This man is an evil overlord and asking him to speak is encouraging stereotypical characterisation of the worst sort. The Jedi Alliance will make every effort to put a stop to it, and I cannot rule out a full scale attack on the conference venue. revMobile is really cool though, I've already made my speed racer ten times faster by using it to fine tune the engine."
In the light of the above remarks, if you have already purchased a ticket to RunRevLive or are considering doing so you might want to invest in one of our attractive high quality white armour suits branded with the RunRev Logo, and show your support for the new alliance of Empire RunRev Ltd. whilst ensuring your own safety.
Footnote: the competition prize of a live Ewok to the best Death Star branded revMobile app is subject to the supply of Ewoks, which we are sure will be available after our upcoming visit to their home planet.
| | |
| --- | --- |
| | Stormtrooper HN3 is a Loyal Lieutenant in the Revolution. She enjoys Ewok hunting, Jedi baiting and long walks on the moons of Coruscant. |