Klaus Major recently demonstrated Revolution authored software at Mac Expo Cologne. Here, he talks to Jo Hernandez about his experiences there.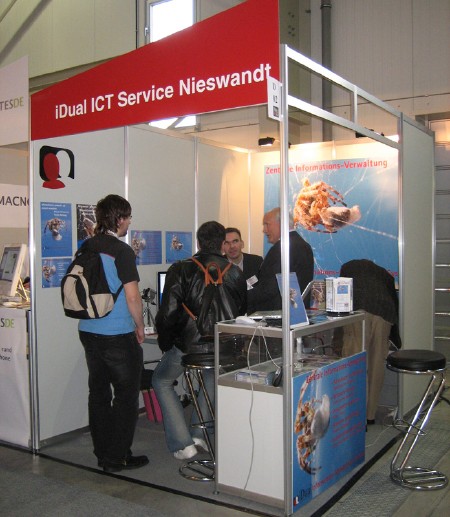 What is it you currently do?
In October 2006 I was hired as senior software developer by the German company iDual ICT. I am currently developing an information and communication management system with Rev.
Why do you use Rev to do it?
I can concentrate on solutions and logics behind the scenes and don't have to think about syntax! Rev makes this easy and because I am a very visual person, Rev is the ideal tool for me since it combines the programming and GUI creation in one application.
What were you demonstrating at MacExpo Cologne?
We (the company I am working for) demonstrated a preview of our new information and communication management software.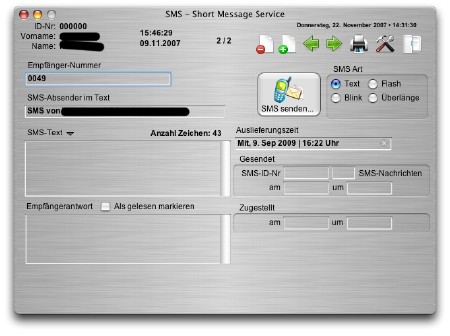 How was the show?
I didn't have much time to take a look at the other exhibitors but it was a very good experience for us. Feedback to our demo CDs is coming in slowly.
What sort of people did you talk to?
From the average private Mac user to medical doctors and professional software developers - The attendees were very interesting in every aspect! We received a lot of input and proposals for enhancing our app!
What was the general reaction to your product and to Rev?
Our software is quite complex, but after we showed some highlights, people were really impressed and excited. I remember an American guy who could not believe that this software was programmed in Germany - go figure! There were a lot of former HyperCard users who almost broke in tears after we told and showed them that Rev is the official reincarnation of HyperCard. The software developers we were talking to were quite impressed when we told them how much, or better little time we've spent on our software so far!
Were there any particular highlights for you?
To be honest, that was being able to work on a 24" iMac that my boss provided to demonstrate our software, a very impressive piece of hardware :-)
About Klaus
Not everyone knows where life's path will lead them, in fact very few would guess correctly. Klaus Major studied hard to become a professional musician and reached that goal. "I had lessons in classical guitar for several years, but every other instrument I taught myself - Bass Guitar, Saxophone, Clarinet and even Backing Vocals."
His first professional work as a musician was with Circus Roncalli - "No, I didn't runaway and join the circus...that's way too dramatic." He advises, he then traveled over Germany with a lot of pop- rock- jazz and dance-bands. Klaus modestly reveals, "Actually I never was a 'real' musician but always felt like a 'pro' in whatever respect...my definition of a real musician is someone who does nothing else but live for his music and the musical style they have chosen. I was never a virtuoso or extraordinary soloist and definitively no stylist, but I always felt that I had to make my part as good as possible, whatever that part was." It is very clear that Klaus puts effort and focus into whatever he does.
In 1993, after never even touching a computer, he bought a Mac LC. At the age of 37 Klaus discovered computers and HyperCard. "The best idea I ever had in my life!" Klaus put the same serious effort into learning HyperCard as he did in learning music. After moving to SuperCard and then MetaCard, Klaus better understood the potential and power of using a scripting language. Without the benefit of internet access and the Rev/MC email list, Klaus continued with his own method of self-learning. "Later I had some communication by fax, yes really, with Mr. Richard Gaskin. He was so kind to help me out with some questions I could not solve alone... Thanks again, Richard!"
"Early on I found that logic is something I am good with and started to make my first application with SuperCard. I did not have to concentrate on learning how to tell the computer what I wanted; instead I could fully concentrate on the logic behind the scenes."
"I learnt by taking files apart and by trying to understand what was going on. It's not always the easiest way, but it's how I learn. After I finally gained internet access in 1995, reading manuals and all available lists helped fill the gaps. I have always been a visual and hands on kind of person and so I was able to learn how to handle a lot more in my applications very soon and very fast."
Klaus has worked as a freelance tutor, multimedia service provider and software developer. He has worked with Adobe Photoshop, MacroMedia Director, Filemaker Pro, Quark X-Press, MetaCard, Adobe InDesign, Adobe GoLive, Adobe Premiere, Maxon Cinema 4D, OracleMediaObjects, and more.
Klaus is an expert Rev developer and makes a point of saying "I am a completely self-taught programmer."