Scripters Scrapbook Joins revSelect
Save your sanity with this personal reference library solution

The Scripter's Scrapbook from The Flexible Learning Company is Rev's industry standard personal reference library and the solution for a simpler coding life! And it's free to try for 30 days.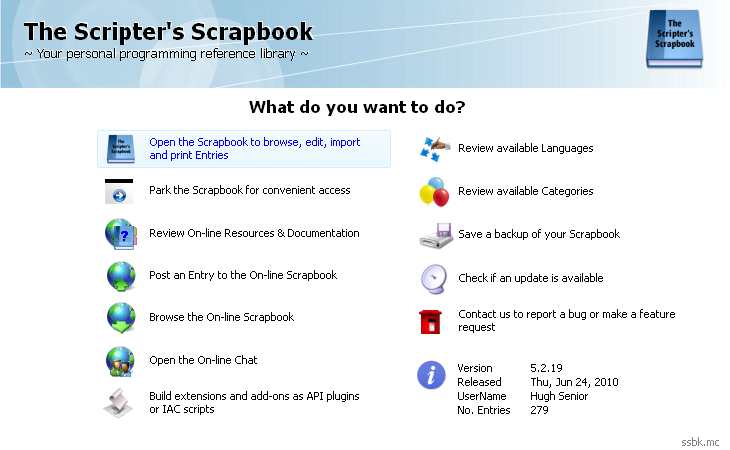 Released for RevSelect as a plug-in with over 270 examples of code, links, web resources, tutorials, gotchas and how-to's, with an on-line reference library and publisher for resource sharing.

A few of the features that have been requested and implemented...

• Built-in reference guides
• Text, image, link and layout tools
• Cutomisable languages, categories and platforms associations
• Customisable language colorization and display
• Quick searching and advanced find
• Customisable color schemes and indexing options
• Links between entries for cross reference
• Pop up memos
• html print previews with or without an interactive index
• Hyperlinks to any file anywhere
• Resource embedding to keep a copy instantly accessible and transportable.
• It even supports an API to build it's functionality into your own work.

An established publication
The Scripter's Scrapbook is now in it's 5th edition and has a long history of supporting and empowering the Rev community. It comes with a range of pre-filled content so it's useful immediately. Then you add to it over time to build your own personal resource, reference and library.

So whether you are new to Rev or an experienced scripter, a hobbyist or professional, educationalist, web designer, in-house technician or just like to use Rev, The Scripter's Scrapbook is your personal coding companion.

Intuitive by design
The layout is clean and customisable, with any of 3 different index lists...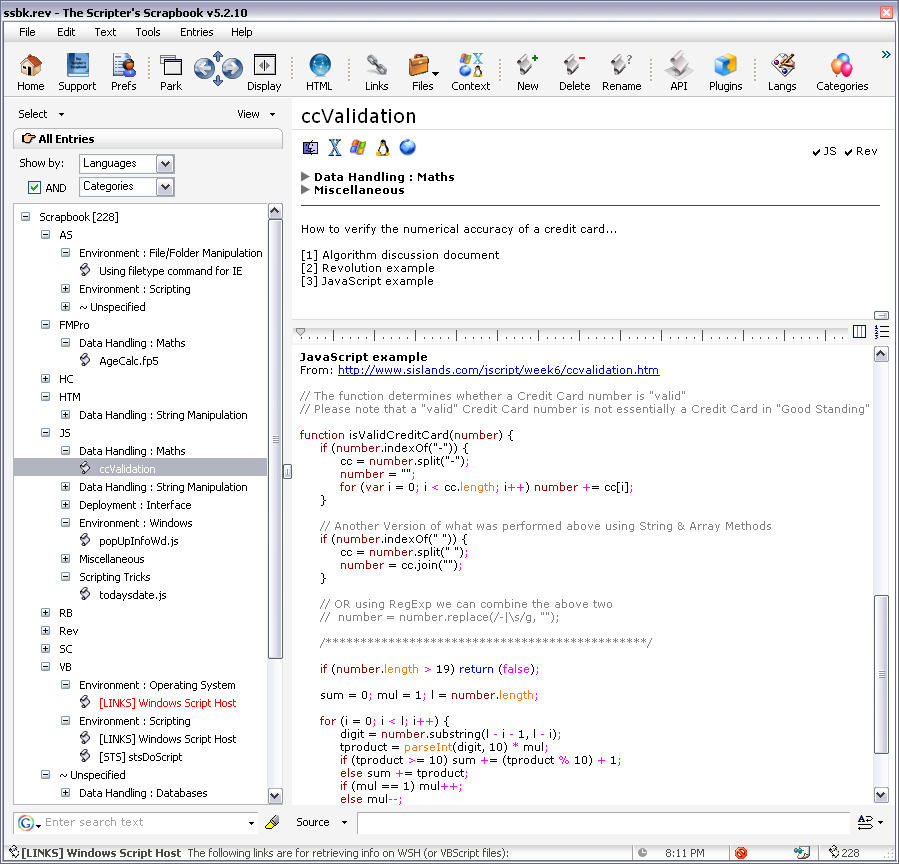 or without one, as a full page layout...



and the preferences make it 'yours'...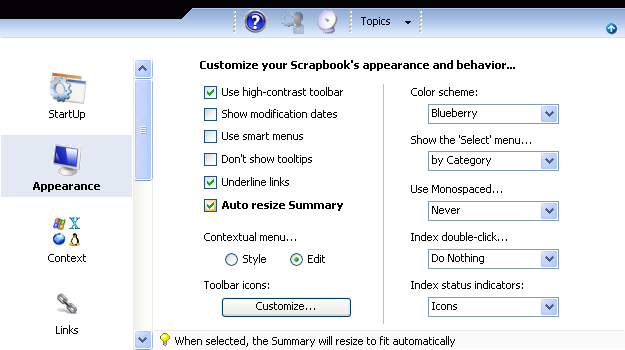 • More screenshots can be found here.

• Further information, download and purchase options are available at RevSelect.

• For an in-depth review, visit http://www.revjournal.com/features/scripters-scrapbook.html

Reviews and customer testimonials


The Scripter's Scrapbook has a long history as an indispensable tool for keeping track of all the tidbits of code you accumulate over the years. The latest edition is jam-packed with features, and useful to scripters and programmers of almost every type on every platform. ~ Geoff Canyon, www.inspiredlogic.com
This is one of those utilities that deserves a permanent place among your development tools. The fact that it is so universal makes it all the more useful. ~ Scott Rossi, Tactile Media
As a programmer who works in multiple languages, I have never seen or used a better tool than Scripter's Scrapbook to coordinate code, wisdom, insight, advice and documentation. It's become a key part of my programming toolbox. ~ Dan Shafer, best seller author
Damned if I wasn't impressed with the nearly unbelievable range of features they've built into it. There's hardly a thing you could ask for in a script repository that isn't in the latest version. And best of all the UI makes good use of progressive disclosure so that while there is an amazing breadth of features they're not all in your face at once. Well done. ~ Richard Gaskin, Rev professional
Scripter's Scrapbook Rocks! I have used a number of code organizers in the past, but they usually are specific to a particular language or environment. Scripter's Scrapbook allows you to manage code across any number of languages you specify, in addition to other "scrapbook"-like information you need to keep handy (web links, articles, etc.) and since you can embed files within Scripter's Scrapbook, you can easily manage external libraries, plugins, etc. and move them seamlessly from one place to another since everything's encapsulated in a single file. Additionally there is a new publish/subscribe section that lets you make your code snippets public for others to retrieve into their copy of Scripter's Scrapbook (and vice-versa). All in all, an awesome product! ~ Ken Ray, Rev professional
My compliments on a 'slick as a whistle' upgrade procedure and superb supporting documentation. More upgrades should follow your example and we users would have a lot easier life. ~ Ralph R. Forehand, ralf@dol.net

| | |
| --- | --- |
| | Geek or Punk |
| | RunRev Quiz |
| | Scripters Scrapbook |
| | 8-Puzzle Game |