LiveCode.TV
From stoneage to internet tv
In the beginning...
When the first stories where told, even before there were fireplaces to huddle around, communication was most likely all about entertainment. Of course, a lot of time has passed since then, and we advanced from stick figures and masks, via puppet theatre and writing, up to the ultimate communication form: seeing someone talk to you from a big box through a glass window. The invention of the World Wide Web was a big visual setback, but luckily it quickly grew up from text only to support online streaming. Finally bringing to fruition, the pinnacle of human communication forms: Livecode.tv.
What is it?
Livecode.tv is a live, video streaming venue for users to share their thoughts, knowledge, tips, tricks and philosophy centered around the Livecode development environment.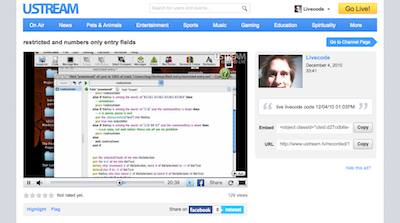 We use ustream.tv as our streaming provider. Anyone can set up a show there, and instantly start streaming. We also use my LiveCode built ChatRev (which is open 24/7, not just during events), to get everyone to the right stream, and to give people opportunities to ask questions. Fortunately, all a watcher needs is a browser with Flash installed, and ChatRev. We do announce every event on the use-list, the forum, and our own homepage, livecode.tv . After the shows are finished, we post links to the recordings in wrap up posts to the same channels.
Why did it start?
I started to talk to people about doing an online streaming web show, because I watched other peoples streaming on coding, politics, and PC games (mostly games). So being the copycat I am, I wanted to do my own show, with LiveCode education and community support as main focus.
As soon as I announced the project, it turned out that some other LiveCoders had been thinking about doing something similar for a long time, and we worked together to create and maintain Livecode.tv. We aim every weekend to create an opportunity for sharing tips and tricks about LiveCode. We get to see what other community members are doing, and watch tutorials on a wide variety of topics.
What is it about?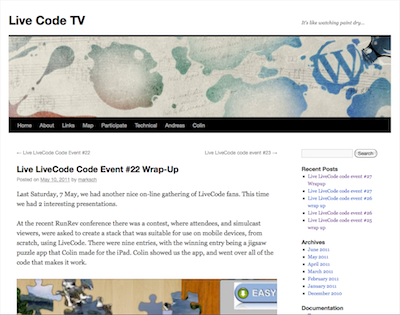 To date we have had almost 30 shows, and seen several commercial endeavours start before our eyes on the show, like John Craig's fabulous native iOS widget tool. We have also had established vendors like Mark Schoenewille or Scott Rossi show their products (Installer Maker and tmControl respectively). Meanwhile David Bovill's favourite topic is sharing and open source politics, so we had a few interesting shows about that too.
We also created some very successful tutorials and how-to entries, like my own basic introduction to starting LiveCode for the first time, or Colin Holgate's show about html parsing, which sparked a lively debate on the use list.
Opportunities for Success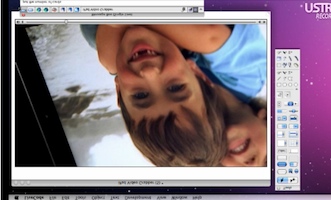 Colin's show has technical difficulties
Of course, it's not all daisies and sunshine for our event. As with any initiative there are issues and teething troubles. The biggest problem is; We find it surprisingly hard to find people that are willing to sit down for half an hour and talk about themselves to their computer screens. If you have an interesting topic you think you could talk about, we'd love to hear from you. The homepage and the archiving system could do with some work. If any web design gurus are reading this, feel free to get in touch! There are some issues with Ustream which make it a little difficult to use sometimes for such an international community as LiveCode. But overall, we're delighted with what we are able to achieve - and with your help we can do even better!
Upcoming Show
Tune in on the next Saturday, because Judy Perry will give us some insights into her educational perspective on LiveCode, while Andre Garzia promised to give us a first glimpse of his work on an SFTP external. If you watch the show, you will get the chance to win a pro license of DiskDrill, a data recovery tool from CleverFiles that is worth 89 $, and offered to us by eHug. Make sure to join ChatRev this Saturday, 18th June, on 20:00 CET. See you there!
| | |
| --- | --- |
| | Björnke von Gierke is a software developer, long time LiveCode community member and likes cats almost as much as charts. |