Team RunRevLive.11
What our in-house team are bringing you in San Jose this April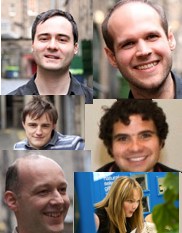 Stop press! We're delighted to be able to confirm that Mike Gualtieri of Forrester Research has agreed to give a talk as our guest speaker on Wednesday evening, 27th April. We're really excited about this, Mike is a renowned expert with a strong focus on application development, user experience and architecture. We can't wait to hear what he has to say, watch this space for more developments and details of his talk!
RunRevLive.11 is less than two months away now, and here in the RunRev offices excitement is mounting. We love the opportunity to meet and interact with our users at the annual conference, and this year there is a real buzz. We can't wait to show you all the progress we've made since last time!
Lets take a look at the schedule and see what our own team is bringing you this year.
READ MORE