rTree Update Makes it Easy
New features in rTree 1.5, special offer from the vendor to you
Since the beginning of computing, Tree controls have helped developers to structure, present and navigate data. It has become a natural and expected part of a wide variety of applications running on everything from your old PC to the latest smart phones. No matter if you just want to organize and display auntie Berta's knitting patterns on her iPhone or handle a million entries database, a Tree control is what you need - but why re-invent the wheel? rTree gives you a quick and easy way to include these essential navigation controls in your app.

Do you need a quick and easy Tree control as an index for your card based manual? Or a powerful Tree view with data binding to the user's hard disk? With rTree you soon will have the best of both worlds. Buy now and you will have the v.1.5 upgrade, expected to be available in store within 3 weeks, for free!

rTree is quickly growing up. Feedback from customers has helped me to produce version 1.5, a major upgrade centered around ease of use. This release wil be ready in the next three weeks. In the meantime let me give you three examples of the new features showing how easily you will be able to install and tweak rTree to get professional Tree controls into your projects in no time:

Install Wizard
Just open the rTree Workbench v.1.5 and navigate to "Wizard" in the left menu. You will be presented with this screen: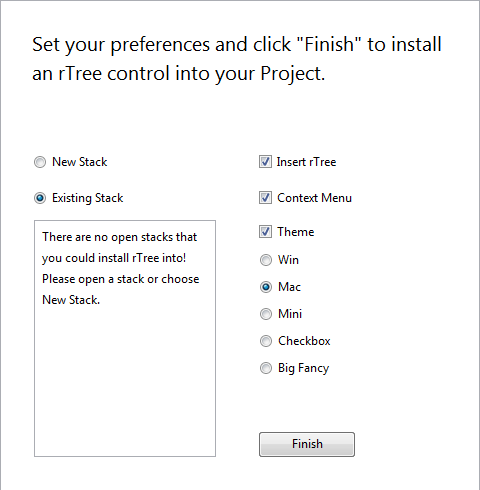 One click and you have a fully working, predefined Tree control installed into your new or existing project - it couldn't be any easier!


Context Menus
Let's have a look at how easily you now can tweak rTree without writing a single line of code. In your freshly installed Tree control, just right-click in the empty control or on an existing Node. This will bring context menus up at your convenience. It will look like this: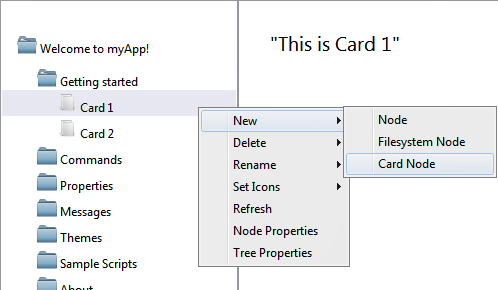 As you see, you will be able to set a lot of properties of the Tree and the Nodes just with point and click!
Card Node
Another great new labor saving feature of rTree 1.5. There will be a new type of Node called "Card Node". Creating a Card Node will automatically create a new card and bind that card to the Node. If you change the name of the Node the card's name will update accordingly. Clicking the Node will navigate to the card in your stack. Neat, isn't it? You don't need to worry whether the card you want to navigate to actually exists in advance, because if it doesn't it will simply be created. This is one example of how you can use rTree to build "readymade" solutions like a Card navigating Tree index in just minutes without a single line of code!


Key Features
Install Wizard

Context menus support

Card Index Builder

Drag and Drop support

Direct editing nodes

Very powerful processing engine

Highly scalable

iOS compatible

Multiple nodes selection

Keyboard navigation

Automatic scrolling

Check box support

Data binding support

Highly customizable appearance and behaviors

"Next to native" LiveCode object syntax and behavior

No background processing
Customer feedback about rTree

Don't take our word for it. Here's what one customer has to say about rTree:
"when rTree was introduced. I immediately downloaded the trial version and had my first tree up and running in no time. The API is intuitive, the performance is excellent, and it gives me ample control over the look and feel. Lastly, I've asked some clarifying questions about the product and the support has been fantastic. I'm very pleased with my purchase and recommend rTree to others." - Ritch Houdek, Software Developer.

You can buy an rTree license in store today, and get the 1.5 update free.

| | |
| --- | --- |
| | Mats Wilstrand is a professional software developer and author of rTree. Visit his website here. |