Drops! 2.0
From Awesome Mega Mighty Games
It's been a while since I wrote my last article for the Revolution newsletter. Somehow it was time to get my fingers on a couple of new projects, so I hope you forgive me being silent the past few months. Well, things have changed quite a bit! I have acquired a game design company and got my hands dirty talking to Suits here and there to get some stuff out of the door. Basically the guys over at awesome mega mighty games are a couple of hypercreative jokesters. They force me to get out of the loop of conventional business thinking and in return I force them to use Revolution. Fair deal, no?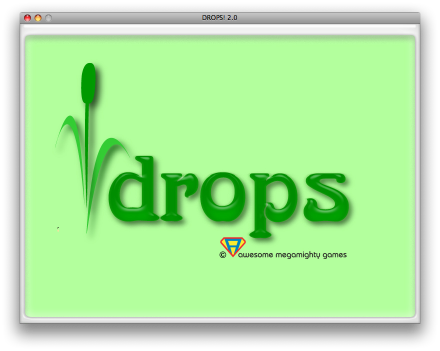 During the transition I had the opportunity to finally do some 101 coding again to provide a newer version of animationEngine (stay tuned for news on an upcoming update release for that). I also had help writing the sequel of my game drops! It not only sports beautiful new graphics, but a bunch of new features that improve game play very much. As a rule of thumb - reward your players, reward your players and finally reward your players. The whole scoring system has been improved significantly. The game now poses challenges for the player as an option that defaults to "on". New sounds have been added and I wrote a nice tune for it - all features that make the game even more addictive than the first version.
Testing Testing Testing
The new features were carefully planned and building the new version took quite a while, as it has been tested, tested and again tested. This was quite a bit of an experience to me, as the awesome QA centre does it in much more depth than I did formerly. What went wrong during the process? Well, you can try as hard as you can to build an application that is rock solid and stable - but with a QA center like awesomes, be sure it breaks. "Most of it is just a curse" I was told. "but thinking is where most people screw up. I play as quickly as I can without thinking, because if everybody thought like you, the program would never crash". If you want something tested, hand it over to the awesome guys and be sure it will break big time even when you thought you were ready to ship.
Improved Workflow
Things that were relatively easy to figure out were the actual scripting errors. Thanks to GLX2 those are found and eliminated fairly easy. The ability to click on a handler name and navigate directly to the handler in question boosted our workflow significantly. However there are those glitches in the game logic or even worse in the game concept, which are much more difficult to fix. It was a whole lot of work to introduce the new scoring and bonus system that leaves your player with a feeling of being rewarded and making him want to beat his own score.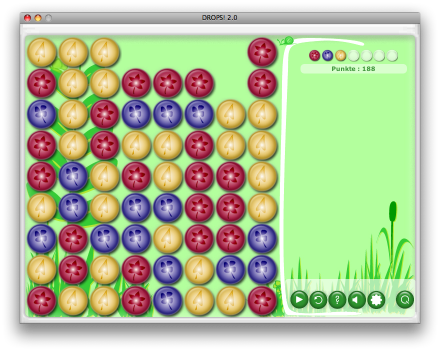 Looking forward to new Web Features!
Praise the engine that it lets you talk to the internet! Having an online high score system makes users want not to only beat themselfes, but also other players. You can't imagine how much I am looking forward to the recently announced new CGI stuff, as having to have PHP code written for that purpose is a bit of a PITA if you are a rev guy. However, what are code slaves for?
Website Redesign
The next step was to come up with a decent web presence. As Drops is a game where we have put  real effort into a sound game concept, rather than into shiny eye-candy, the new site needed to be plain and simple. And humble. Really. I think we managed. ;-)
Nuff said for now, now you get what you have been waiting for all the time. A link to the game!
And while we are at the humble website of ours. We really could use all the attention we can get. So I will dedicate a free Animation Engine license to the first five of you, who manage to get  the game mentioned at least two different locations on the web. Blogs preferred. Just send a note to the Editor, with a link to the mention of Drops! you have generated!
Until next time,
Malte