Competition Winner Announced
Our three winners of the competition to write a revMobile app show off the power and flexibility that can be achieved in a very short time
We are delighted to announce the first, second and third prize winners in our competition to write a revMobile app and win an Apple iPad. In reverse order, our congratulations go to
3.) Sarah Reichelt with her entry Pic-a-POD
2.) Anthony Pieper with his entry Electro-Bounce
1.) Rolf Kocherhans for his entry UZH TEL Phonebook
What makes a good application?
As software developers we all face the same challenge. How do we get the balance right between focusing on the technical solution and the user of our tools we are building.
The danger of focusing on the former is that we end up with a app that is technically impressive that no one wants to use because it just seems over complicated. If we focus entirely on the end user we end up with a beautiful easy to use piece of technology that isn't useful enough to be deemed excellent.
A good application has both of these items in equal measure. It performs a truly useful function while remaining easy to use. A good question to ask yourself when considering an App is "Does my interface design HIDE the technical achievement of my coding" or "Is my UI so good that users of my tool would never guess how complex the tool is".
So to our entries
Firstly a big thank you to all those who entered the competition. We were really impressed with the overall quality and had a great time playing with all the submissions. In the end we could only pick three winners and after much debate we selected Sarah, Anthony and Rolf for the final podium finishes. Congratulation to the three of you!
3rd: Pic A Pod (Sarah Reichelt)
This is a neat little app that searches the web for images in your chosen categories. Each thumbnail in rendered as a polaroid for preview purposes. Selecting the an image downloads the full image and provides multi-touch control for zooming. As well as URL and multitouch control, Sarah has taken advantage of the Orientation messages allowing you to use her app from any perspective. The settings pane lets the user easily select the number of categories to search and display which is a great addition. The app is a breeze to use and so takes a deserved 3rd place! $100 of iTunes vouchers will be on their way to you shortly.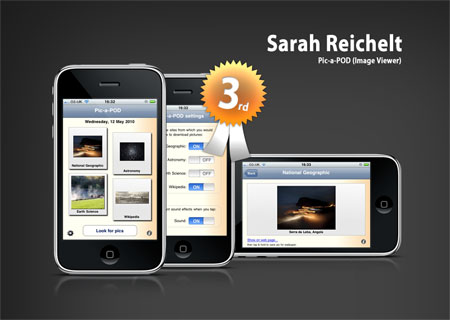 2nd: Electro Bounce (Anthony Pieper)
Anthony Pieper chose to submit a game to the competition. Generally speaking, game development is not easy. Coming up with a concept isn't hard, but coming up with one that makes the end user come back for another go time and time again is very difficult. Add to this the need to implement a game engine (Animation / collision detection etc), game rule system and a good interface and you've created for yourself a tough project. Electro-Bounce is a great little game that sees the user constantly fighting to keep their ball from being zapped by an electric beam at the bottom of the screen. The ball bounces continually allowing the player to guide the ball onto the platforms and as a result up the screen away from the electric beam. It's a story of survival! The game uses the accelerometer which is one of the hardest iPhone features to take advantage of well. Overall, an impressive attempt at a game and well worth the iPod touch on offer for second place.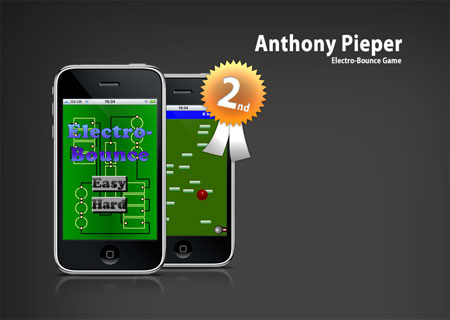 1st: UZH Tel Phonebook (Rolf Kocherhans)
Rolf has produced a brilliant application that fulfils the criteria of being a truly useful application that focuses on providing the user with a great interface! UZH Tel is a custom phonebook that pulls detailed contact information for all fellow staff from his university. Here is a genuine problem solved very well with technology. All those contacts are now at his fingertips via a well designed clean interface. Features include input, search, view, call and locate (google maps). The whole app is wrapped in a really nice interface that is fast and responsive. Rolf has taken time to implement an interface that takes advantage of the touch feature on the device and mimicked many of the standard interface elements we would come to expect from a quality iPhone app. A well deserved winner of a shiny new iPad!