RevSelect High Five
3D, Geometry, App publishing and Word Import... 5 new revSelect Apps all coming to a store near you!
I'm delighted to welcome two brand new vendors and no less than 5 new products into our revSelect lineup.
Ready for you this week is the great Franklin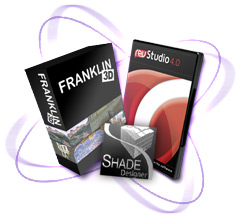 Advantage 3D Suite, bringing real 3D technology to Rev. Included in the bundle with revStudio is Franklin 3D and Shade Designer, both of which will be available separately via revSelect in the coming weeks. Get them all together now and save a substantial sum of money. This is a great way to get your feet wet in the world of 3D.

Coming soon we have an interesting new external from new vendor Bakno Games, led by Andres Martinez. IntelAble External will allow you to painlessly publish your apps for the Intel App store. This is a great opportunity for you to get in on the ground floor with this developing App store and Bakno have done a lovely job on making it easy for you.
Our already established vendor, DamPro, will shortly be bringing you NativeGeometry,

to add to his suite of software that includes NativeSpeak and NativeDoc. This handy replacement for the built in geometry manager has some nifty tricks up its sleeve, making handling geometry across platforms and localizations a breeze. Until June 14th NativeGeometry is available as a free public beta, you can sign up here.
And finally, if you have been hoping for a way to easily import Word documents into Rev, new signup Curry Kenworthy has created just that for you, and it will be on sale soon in revSelect. This nifty library will import .doc, .docx and Open Office files for you to use in your Rev projects.
| | |
| --- | --- |
| | Heather Nagey is Customer Services Manager for Runtime Revolution Ltd. |