Reporting from MacTech
Voted Best Developer Tool, 3 minute app and an iPad giveaway - its all been happening at MacTech
Last week Kevin Miller, RunRev CEO, and Ben Beaumont, LiveCode Product Manager, attended the MacTech conference in Los Angeles. I caught up with Kevin over Skype, in his hotel room in San Francisco, to ask him how it went.
How did it go overall?
It went very well, yes. Unfortunately I didn't get to many sessions myself as we were too busy chatting with attendees and demo'ing LiveCode. We met lots of fun and interesting people, both IT professionals and dedicated developers. It was interesting to talk in particular to the IT people present, as many of them want to produce apps, for all sorts of different projects.
Was it busy?
Yes, it was very busy. There were over 300 people at the conference, and it felt like we chatted to all of them. Hard work, but very rewarding!
You gave a short talk, how did that go?
It was well attended. I had five minutes to speak, and I decided to push the envelope a bit and demo building an app from scratch in three minutes. You can see the video of this app being built here.
3 minute app by Kevin Miller
Reaction was that it was a "brave", "gutsy" talk, and generally people seemed interested. Fortunately the build went well, with no unexpected hitches - every presenters nightmare :)
What was the most notable event for you?
I very much enjoyed Guy Kawasaki's keynote talk. He spoke about lessons learned from Steve Jobs. Guy is a charismatic and entertaining speaker. I also enjoyed Andy Ihnatko, talking about how to engage the press. Mactech laid on a great party too...
I hear we won an award! tell me more...
We did. Attendees voted on best Developer tool at the conference, and they voted for LiveCode! I'm really thrilled, as are all the team. More details on this award can be expected shortly...
Do you have any photos?
Yes, we do have a couple. I particularly like this one of Ben, bowling at the MacTech party, with a full screen image of one of our videos on the wall in front of him.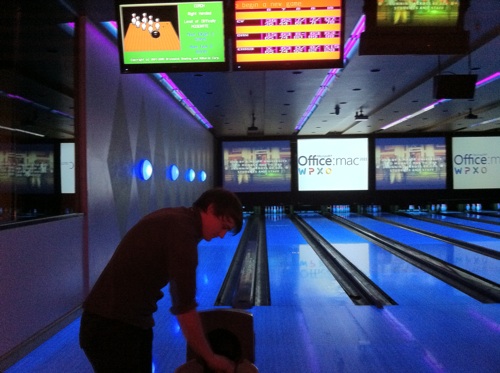 Ben, bowling at party with RunRev video on screen
Also outstanding, a full conference session showing Galactic Gauntlet on the wall screen. I never expected to see that! Kudos to MacTech, they really made sure all our sponsorship materials were showing, all the time. If anyone went home from MacTech without having seen our logo, they must have been wearing dark glasses and walking with a white stick.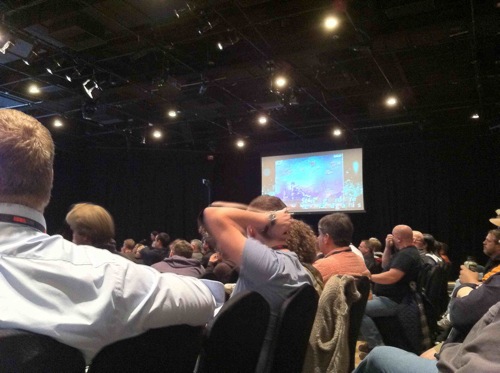 Galactic Gauntlet video running during session
Is there anything else you'd like to share?
Yes, we were running our own competition during the show, with the prize being an iPad. I'd like to announce the winner of this draw, the iPad goes to...
Bill Sanderson!!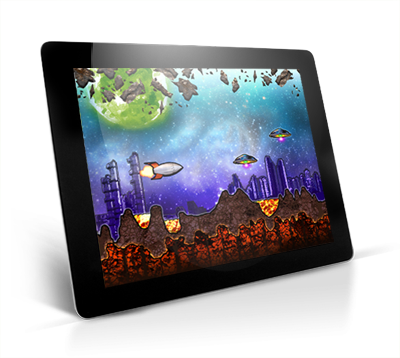 Congratulations Bill, we'll get that iPad shipped to you asap. Be sure and check your email for a mail from us.
What's next?
Well, we're now in San Fransisco, preparing for AnDevCon. I'm looking forward to it!
Thanks Kevin, for taking the time to chat, I'm looking forward to hearing your report from AnDevCon. Hopefully it will go as well as the MacTech Conference!
| | |
| --- | --- |
| | Kevin Miller is CEO for RunRev Ltd. |