You can stop holding your breath. Revolution 2.9 - by any measure the most significant release of the Revolution platform to date - is available today for beta testing on Windows, Macintosh... And Linux.
More than a year in the making, this version delivers all the powerful new language enhancements introduced since Revolution 2.6.1, as well as an astonishingly modern look and feel that fits right in with today's desktop environments. You no longer have to save stacks in legacy format or design for the "lowest common denominator." Stacks are binary compatible across all platforms. And the new version is a joy to use, because user interface elements inherit the proper appearance and operation of your development platform of choice.
Not only that, but there are also more than 200 improvements and bug fixes across the board that continue to enhance the performance and robustness of the Revolution platform.
The Importance of Linux
That cute little penguin is starting to throw its weight around. Over the summer, Runtime Revolution polled thousands of users about what they used to develop software, and their goals for software deployment. The results backed up the anecdotal reports and email requests for more attention on the Linux front.
Remarkably, nearly one in five respondents reported they used Linux for development either frequently or as their primary development platform. Even more amazing was that 41% reported that Linux was essential, extremely important, or important as a deployment platform. That's a figure that rivals Windows Vista!
It's clear that being on Linux - and doing it well - is important to customers. Although Revolution has supported Linux from the beginning, the last major release for that platform was in October of 2005 and was beginning to show its age. The platform has matured considerably in the past two years, and Revolution 2.9 represents state-of-the-art support for today's Linux operating systems.
Enjoy the Goodies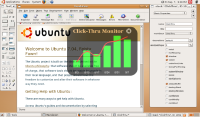 What will Linux users find in the new Revolution 2.9? The first thing you'll notice is the "eye candy." The entire product is now compliant with your Linux desktop manager's look-and-feel, down to the printer and open/save dialog boxes. Fonts are now smooth and anti-aliased. Plus you get the full bag of tricks including alpha-blended windows, window shapes, per-object transparency and blending modes... and of course the smoothed vector graphics.
The next major cause for joy is inclusion of all the various language enhancements made in the last two years, as well as optimizing existing functions (such as the specialFoldersPath, which helps you decide where to read and write certain kinds of files) for the Linux environment.
Of course, you'll be able to utilize the revZip library for compression, the new split/combine by columns and rows for arrays, private handlers, and Unicode text handling enhancements.
The Challenges of Linux
There are literally hundreds of variants of Linux, and while the emerging leader on the desktop is Ubuntu, the lack of standardization, even within a single distribution, can create headaches for anyone wanting to support the Linux platform.
Revolution 2.9 was developed on Ubuntu 7.x and OpenSuse 10. Those distributions - and most others released within the last couple years - will have the technologies you'll need to enjoy these new capabilities pre-installed and pre-configured (stuff like composited window managers, Paugo, Xft, GTK, and TrueType fonts).
Runtime Revolution engineers have also extensively tested on Ubuntu 6.x and other variants of Linux. A major consideration was that functions "degrade gracefully" to minimize development and distribution headaches. Instead of failing to run, crashing or producing an ugly error, you'll receive the "best effort" result if a required library is missing. Revolution 2.9 is designed to run on just about any Linux system released within the last four years or so (minimum requirements are linux kernel 2.4, glibc 2.2.4, and X11R5).
Other Enhancements
If you're not running Linux yet, don't feel left out. Revolution 2.9 continues the aggressive pace of bug fixing and enhancements to the core engine, development environment, and documentation. In fact, there are more than 200 bug fixes overall.
One of the most awaited improvements is that Revolution now works well under Windows Remote Desktop. This enables both the IDE and any runtimes built with Revolution 2.9 to be accessed remotely without visual artifacts, really opening up the possibilities for custom utilities to manage common server tasks.
Another major area of work was the handling of print management and printer configuration. For example you can use the new PrinterName property to check and change the current printer, and the printerSettings property to query, save, restore, and set various print options.
The Revolution database routines also get attention in this release, with better navigation support, a slew of bug fixes, and more flexible handling of variables and arrays.
The "changelogs" supplied with the download and Revolution Quality Control Center contain detailed information on all the fixes made in this version.
Background
Revolution 2.9 was originally conceived about a year ago as version "2.75" and was promised free to all users who purchased any version of 2.7.x or later, or had an active maintenance agreement as of February 1, 2006. The version number for this planned release was changed to "2.9" to accommodate interim releases for Windows Vista compatibility and inclusion of technologies acquired from Altuit Inc. Along the way, hundreds of bugs have been addressed, as well as dozens of other enhancements to improve the usability and reliability of the Revolution development platform.
This version of Revolution is the result of an unparalleled level of collaboration between Revolution engineers and end users. At the beginning of the project, significant effort was made to bring the problem reporting tool up-to-date and more accessible to customers with the re-launch of "bugzilla" as the "Revolution Quality Control Center. Since then there has been ongoing interaction with customers through eight beta releases, regular surveys soliciting candid responses from testers on the progress of work, soliciting users' top issues, and even direct email exchanges with several Revolution customers about what is needed for them to get the most out of the product. The result has been hundreds of improvements large and small to every aspect of the software, and strong adoption of the latest version in customer projects. Revolution 2.9 represents the final phase of delivery on the promise to eliminate any reason to use previous versions.
How to Get It
To participate in the Revolution 2.9 "Open Beta" and help the engineers put the final polish on this version, just fill out the application form at:
http://support.runrev.com/beta_test.php
Hundreds of Revolution users already are part of the Open Beta and have made this version possible with their testing efforts and feedback. If you haven't already, join the process which is helping to release the best version ever of our favorite development tool.