Introducing Rev Mentor
A great new learning resource for Revolution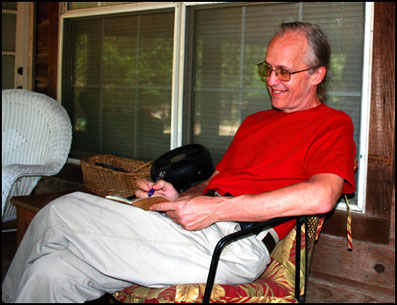 Jerry Daniels makes notes after a mentoring session. (He keeps a separate Moleskine Cahier notebook for each client.)
As many of you Rev faithful already know, my business partner (and husband of 35 years), Jerry Daniels, has begun to devote a significant portion of his time to teaching people how to get the most out of Revolution. Jerry feels passionately about this, because he believes that Revolution is the crest jewel of 4th generation, cross-platform development environments – and, that the only thing keeping this secret from the rest of the world is learning curve.
Jerry is convinced that many more people could, would (and should) be using Revolution for everything from desktop to enterprise apps if they could only take college courses in it. Enter Rev Mentor! Between the new Rev Mentor website and our Personal Mentoring Program, Jerry intends to close that irritating knowledge gap. For just $10.00/month, new and experienced users alike can take advantage of ongoing video lessons, lectures, and other key information, including:
Regular interviews with key Revolution personnel and developers.
Weekly commentaries and statistical analyses of hot topics on the Rev email list.
A steady stream of new lessons and lectures on designing, developing, and deploying Revolution-based applications.
Two popular items currently on the Rev Mentor site are an interview with Kevin Miller on the release of Revolution 3.0
and a series called "Top Ten" that provides a weekly review and analysis of topics on the Revolution email list. .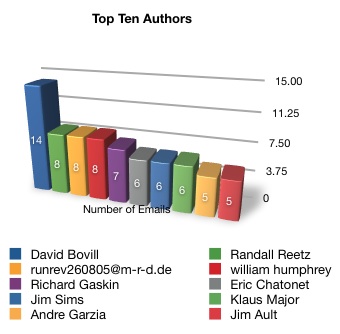 (Click the image shown to visit the site and view video and analysis for the week of 8/28–9/3)
Personalized Mentoring Services are also available to anyone looking for one-on-one help with the Revolution language and environment. Because you set the pace and the budget, Jerry calls mentoring, "The new, cost-effective face of consulting in the 21st century."
Jerry Ought to Know!
Over the last 20+ years in the custom application business, I watched Jerry make a lot of money for our company getting Macs to talk to mainframes, developing Windows-centric client-server systems, participating in cross-platform projects before cross-platform was a given — and working with every popular Internet solution imaginable for companies like GE Aerospace, NASA, Nortel Networks, and Apple Computer. No one has more first-hand knowledge of how much more cost-effective it would be for company owners and/or personnel to have some ownership in the code. This would allow the company to maintain that code without spending a bundle on an outside contractor for every little feature update or unsupported bug fix.
Mentorwise, Jerry has earned his Revolution stripes through the last 10 years of coding ALL of his projects in Revolution — having originally migrated from Rev's previous incarnation MetaCard. He has used Revolution to build dozens of enterprise applications for custom development clients, and, in the process, created his own productivity tools that add muscle to the Rev IDE: GLX2 Script Editor and GLX2 Visual Application Browser.
Hidden Knowledge Bonanza for GLX2 Users
Our GLX2 tools are an offshoot of in-house tools that Jerry originally built to boost his own productivity – and, (this may come as a surprise to GLX2 users) these tools are yet another way in which Jerry is spreading his hard-won knowledge across the Rev community. 98% of GLX2 code is unencrypted. (Only code that talks to our servers or handles our registration info are, for obvious reasons, hidden.) This means that users get a hidden bonus inside each tool: TONS OF EXAMPLE CODE that can potentially show you how to do things like . . .
Fold and unfold hierarchical trees
Add clairvoyance to fields
Employ various forms of drag'n'drop
Use snapshots in a number of ways
. . . and much, much more
The code is, of course, copyrighted; but, Jerry heavily encourages users to review it all for ideas and how-to-dos – and feel free to borrow code snippets for personal use. He further encourages people to look at and play with code snippets from all unencrypted Revolution apps (and these are legion). Jerry recalls when he, himself, was first learning HyperCard:
"I looked at the scripts inside every stack I could get my hands on, and ended up learning amazing things that weren't taught in any HyperCard tutorial or published book. When I look at any app I'm always thinking: I wonder how he/she did that? With Revolution, you don't have to wonder. Just look at the script!"
Speaking of books, Jerry was the co-author of Brady Books' "Hypercard: Developing and Marketing Superior Stackware" and "HyperTalk: the Scripting Language Revealed" – as well as one of the first to create HyperCard commercial stacks for the late-great MACazine. Combine this with a vast amount of teaching experience, and true gift for making abstract concepts concrete, and you've got the makings of the perfect Rev Mentor. Jerry's clients, agree:
"Jerry Daniels has been an invaluable asset in developing our internal management systems for our company. [He is] an excellent teacher as well as an expert coder."
"I know that the advice Jerry gives, derived from developing useful and professional-looking products, is solid and immediately applicable. The opportunity to learn from the best is rare and valued in any field. Anyone considering taking their Revolution programming to the next level would do well to work with Jerry and his Mentoring Program."
Click below to view my short interview with Jerry about why and how he became a Rev Mentor.