FieldFormatter from The Flexible Learning Company is a cross-platform frontscript library solution designed to automatically format the display of your field data. The download includes an IDE palette, fully annotated documentation and unlocked example Playgrounds.
Separate data from display
FieldFormatter is a fully-featured cross-platform frontscript library solution designed to extend existing field property options for automatic field display, separate from the underlying user data. It comes with a point and click IDE palette that applies properties to your fields so your data is formatted to display as you specify, including number format, separators, conversion rates, currency options, arbitrary time and date formats, time duration, percentages, privatised display and default text.
| | |
| --- | --- |
| Before, with raw data... | After, with formatted data... |
| | |
Click to zoom images

28 New properties
FieldFormatter adds 28 new properties to the existing field property options in LiveCode. You use the new properties in the same way, for example set the asPercentage of fld 1 to true will immediately present 0.1 as 10%, and set the DefaultText of fld 1 to "Enter a search term..." will show this text in gray if the field is empty. Easy access documentation includes tips, explanations and examples of each property. From a simple number format to arbitrary negative currency displays, FieldFormatter will do all the heavy-lifting for you.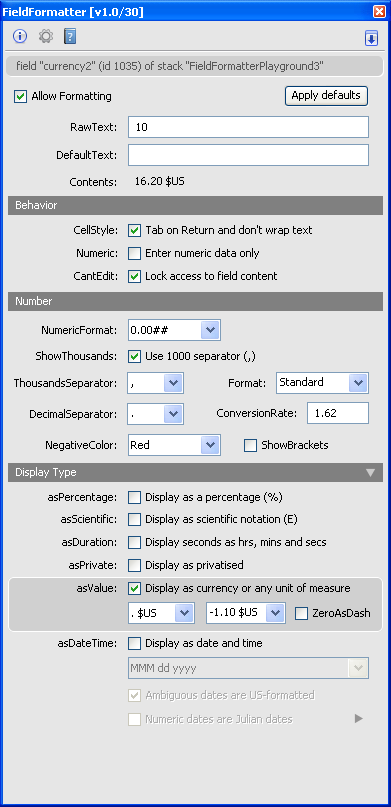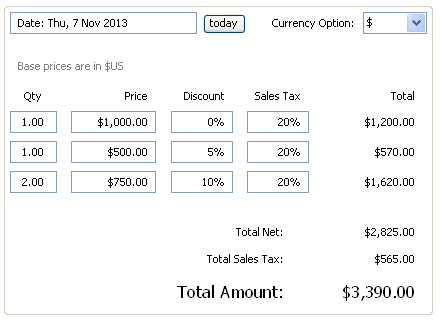 IDE Integrated
The palette works with the IDE and you can specify your own default settings for new fields. Simply set up the properties as required using point and click, fields automatically update, and when editing field data FieldFormatter looks after your field displays for you.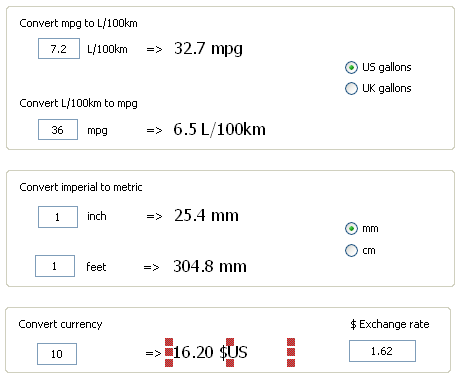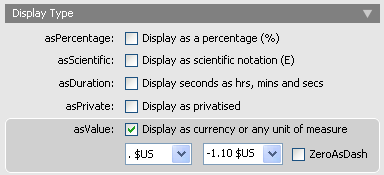 FieldFormatter is an appropriate solution if you want to automatically display...

Custom date and time
Decimal place precision
Different decimal and thousands separators
Percentages
Scientific notation
Accountancy notation
Duration in hours, minutes and seconds
Privatised text
Default text
Currency or any unit of measure
Value conversions
Negative format & color
SQL Julian dates
Please note that datagrids and multiple line fields are not supported at this time.
FieldFormatter can be purchased in the LiveCode Extensions store.